Giving the perfect campervan gift during the holiday season – or any other time of the year for that matter- can be a real challenge. Especially if your loved one is a huge campervan enthusiast and you don't know the first thing about camping or campervans.
Unlike the hundreds of listicles with handheld coffee dispensers and inflatable kayaks, in this guide, we're doing something a little bit different. We're covering thoughtful, handmade gifts from small independent businesses. Each item in our carefully curated list was chosen because it's practical, works well in small spaces or has that perfect Instagramable aesthetic. Bonus points for eco-friendliness too!
---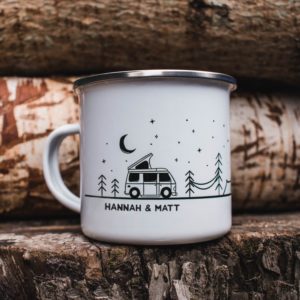 Personalised Vanlife Enamel Camping Mug
We might be slightly biased, but we think our Personalised Vanlife Enamel Mug makes an excellent gift for any V-Dub lover. Our hand-drawn design features a full wrap-around print with a little pop-top bus.
At 10oz capacity, our mugs are the perfect size for smaller vans and make great campervan accessories in any tiny kitchen.
Featured product 'Personalised Vanlife Bus Vanlife Mug'.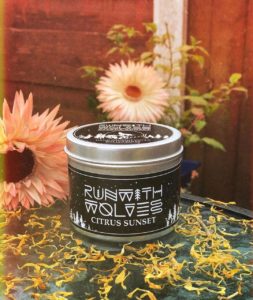 Citrus Sunset Soy Candle
Any camper knows that keeping the bugs away can be a real pain. That's why we were super stoked when we contacted Jane – the owner of Run With Wolves – to ask if we could include her business in this post. Jane very kindly offered to send us a candle of our own and it did not disappoint!
Like all candles from the Run With Wolves collection, Citrus Sunset is vegan, made with ethically sourced soy wax and organic essential oils. The citrus scents from May Chang to citronella is the perfect non-harmful repellent for keeping the biters away. Not to mention, it smells amazing!
Found on the Run With Wolves website runwithwolves.org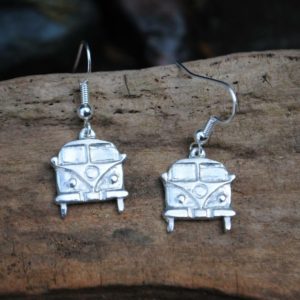 1960's VW Camper Earrings
These handmade 1960's VW Camper earrings by The Cornish Jewellery Co are the perfect balance between classy, yet quirky. At 14mm x 16mm they're not impractical for day-to-day wear on hikes and camping trips.
Handmade with pewter and silver-plated ear wires in the beautiful district of Penwith, Cornwall – they're also supplied with a gift box ready for wrapping!
Found on Etsy store and The Cornish Jewellery Co website thecornishjewelleryco.com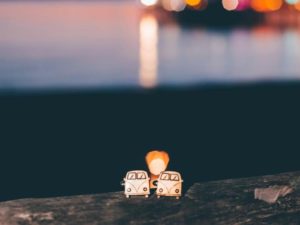 Campervan Cuff Links
These are possibly some of the coolest cuff links we've ever seen from Life Less Ordinary Co. The plaques are ethically crafted from tagua nut and backed with high-quality stainless steel for extra durability.
Each gift boxes can also be personalised on request. Plus, Life Less Ordinary Co donate 10% of their annual profits to charities.
Found on Etsy and on the Life Less Ordinary Co website life-less-ordinary.co.uk

Home Sweet Tiny Home Enamel Camping Mug
If your recipient is a Sprinter van owner, then we recommend one of our panel van mug designs like this 'Home Sweet Tiny Home' enamel mug.
Featuring celestial line art design that can be personalised with the name (or names) of your recipient. Like all our mugs, the hand-enamelled finish adds a unique, rustic charm to each design we print.
Featured product 'Home Sweet Tiny Home Vanlife Mug'.
The Reusable Pee Rag
What exactly is a pee rag?
Well, a pee rag is a small reusable wipe that replaces the need for toilet paper on hikes, road trips and camping trips. The Wander Woman pee rag is handmade with super absorbent, antimicrobial organic bamboo fabric with an outer waterproof hygiene layer.
Don't be too hasty thinking this isn't a suitable gift because you only have to look at the 5-star reviews to see that this pee rag has been a well-received gift on many occassions. Personally, I can understand why as, like many campers, we're pretty fed up of seeing discarded toilet paper in beauty spots. So, we say, the more pee rags the better!
Found on Etsy and on the Wander Woman Gear website wanderwomangear.com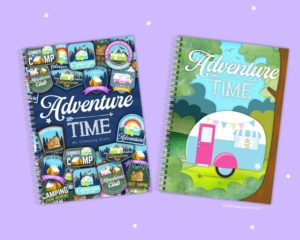 Personalised Camping Diaries
If you're looking for a gift that's suitable for the whole family, then we absolutely recommend these camping diaries from aabe creative.
Not only can they be personalised, but inside each diary, the note pages are separated into 42 double-page spreads packed with sections like 'friends met', 'memories' and 'activities'. Perfect for families and couples alike, the colourful designs and thoughtful layouts are guaranteed to get you and your loved ones excited about being outdoors!
Found on Etsy and on the abee creative website aabecreative.co.uk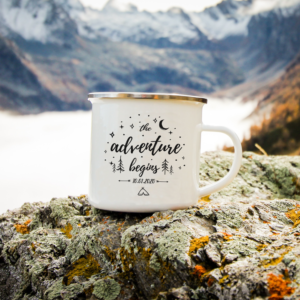 Adventure Begins Personalised Enamel Mug
Whether you're gifting to newlyweds or you're trying to win extra brownie point with your SO, you might want to consider our 'The Adventure Begins' enamel camping mug.
This design can be personalised with special dates on the front such as weddings or anniversaries and names on the back of the mug. Each of our designs is printed with eco-friendly, toxin-free ink and with gentle handwashing, they will never fade or scratch.
Featured product 'The Adventure Begins Personalised Enamel Mug'.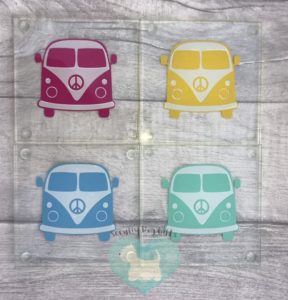 VW Campervan Glass Coasters
Perfect for the conventional homeowner and unconventional 'tiny home on wheels' owner. These glass campervan coasters from Scruffy Dog Gifts add the perfect pop of colour to any space.
When ordering online you can choose from a selection of colours or a single colour depending on what works for you.
Found on Etsy at etsy.com/shop/scruffydoggifts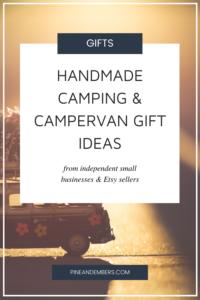 ---
Looking for more gift ideas?